April/May 2019
Coming to Atlanta, Tampa Bay and St. Louis
​
​Adolfo Affatato
of Foggia Italy


​Close Friend and Personal
​​Spiritual Child of St. Padre Pio for 15 Years
Meet the man that knew Padre Pio personally! Once in a lifetime event coming to the USA.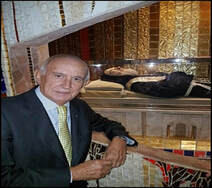 ---
Adolfo Affatato today, and above as a young man in his 20's with Padre Pio.
He met Padre Pio when he was 16 years old. Padre Pio called his name out of a group of men and told Adolfo "I have been waiting many years for you". This man chosen by Padre Pio is now coming to the USA to share the words, wisdom and prayers of Saint Padre Pio. He is one of the last people alive today that had an extended personal relationship with Padre Pio. Don't miss this once in a lifetime opportunity to hear first hand from the man who has devoted his life to this great saint of the Catholic Church. All dates are listed below. A Padre Pio glove will be at each presentation.